2 Jurong East Street 21 #04-61 Singapore 609601
2 Jurong East Street 21
Singapore
609601
SG
We have been Singapore's top licensed and most trusted moneylender. We offer a widespread range of financial solutions to all our customers. Among the loan services we offer are foreigner loans, business loans, payday loans, and personal loans. These all come with a flexible repayment plan and a reasonable interest rate. Most notably, our loan plans are foreigner applicable and low income applicable to suit your specific needs.
Our commitment is to establish strong bridges between us and our clients through excellent financial product and services. Our company is driven by an obsession for perfection and this is the reason we possess strong standings among our consumers. Our staff works round the clock to maintain this substantial reputation by delivering competent services.
Our goal is to assist Singapore's residents in dealing with their short term financial challenges, with the very best possible rates. We are also working non-stop to make our loan program much easier and place cash in your hands faster.
Recognized by the Registry of Moneylenders in Singapore. We specialize in providing personal, payday, bridging, foreigner, business loans to Singaporeans & Foreigners working in Singapore. Our goal is to help make taking a personal loan a simpler, more transparent process, and to inform our clients about their personal loan options in case of an emergency need.
Need an emergency loan? There can be times when one gets into cash flow problems and the need for urgent cash comes into play.
We know it may not be suitable to take a personal loan from friends and colleagues and loved ones at times and a lot of people favor the assistance of a licensed money lender to tide them over unexpected situations. Within the framework of law in Singapore based on the Singapore MoneyLenders Act, most licensed money lenders can offer and shell out the loans on the same day (in fact it is possible to receive loans within a few hours if all the paperwork and requirements by law are filed properly).
View the catalog of participating licensed moneylenders ratings & testimonials with us !! We really like to compile feedback from the general public, feel free to offer us with useful feedback on the listing of participating licensed money lenders. Bukit Batok Crescent Singapore 658075
we aim to achieve each and every one of our customers' wants and needs. We are a money lend...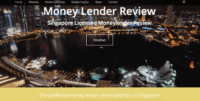 TECH PARK CRESCENT SINGAPORE 637839
We composed of a core group of professionals that provide loans to tailor to all your needs. Appl...